4 Reasons Why a Settlement with BP is a Bad Idea

Sort of like OJ Simpson (Yes. I figure he did it), BP "got over" in the US Justice Department's criminal case against them. They didn't win, but they gladly settled for $4 Billion rather than face a full trial with full public disclosure of exactly what happened before, during and after the Deepwater Horizon rig exploded on April 20, 2010.

So, kind of like the civil case that did tackle "The Juice" eventually, the Justice Department's civil case against BP must proceed to trial on February 25 - and not be "settled" for less money or less public scrutiny than what a full-blown trial would yield.

A sign-on letter requesting a full civil trial and not just another "settlement" will be delivered to US Attorney General Eric Holder (pictured) tomorrow.

Besides knowing that this glove fits BP, my four other reasons for signing are:

• Without a full and transparent Civil Trial, the truth regarding the causes and impacts of the largest environmental disaster in US history (Deepwater Horizon) will remain un-aired in any credible or transparent public forum, and remain obscured forever.

• A DOJ settlement with BP in lieu of a Civil Trial is very unlikely to result in BP paying the maximum fines allowed under law - a sum which the extremely costly restoration of our Gulf's damaged marshes, estuaries and open waters etc. requires.

• Neither egregious misbehavior by BP executives nor preventable disasters like Deepwater Horizon are likely to cease if the corporation and its top executives are not publicly scrutinized and held maximally accountable in a full and transparent Civil Trial. (BP has a long history of criminal offenses concerning environmental pollution and worker safety in addition to "Deepwater Horizon")

• Low-income and minority populations continue to bear the heaviest social, environmental and ecological burdens caused by BP's damage to Gulf Coast ecosystems and communities. A very wide range of unmitigated social and environmental impacts continues to fall disproportionately on tens of thousands of Native-, Vietnamese-, African-, Cajun-, Hispanic-, and other poor Bayou-American families and workers whose livelihoods, health, cultural identity and self-determination are the most dependent of anyone's upon the environmental resources that BP has damaged and/or ruined.


"Come and see for yourselves": My remarks at the BP shareholder meeting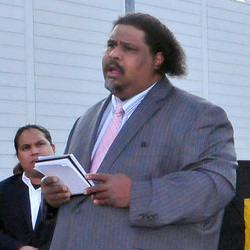 Today, two community advocates and regional leaders from the Gulf Coast, Bryan Parras and Derrick Evans, brought an urgent message to BP's board and shareholders, at the corporation's annual meeting. Here are Evans' remarks as prepared for delivery. Evans is the founder of Turkey Creek Community Initiatives (TCCI), a Founding Advisor of the Gulf Coast Fund, and Bridge The Gulf advisor and contributor. He is from Gulfport, MS. Read more about the meeting here.
Good morning. My name is Derrick Christopher Evans and I don't speak for the American government, but I am a citizen of the United States and a resident of the Gulf Coast. I live in from Gulfport, Mississippi – which is midpoint between New Orleans, Louisiana; 60 miles west of Mobile, Alabama. More specifically, I hail from Turkey Creek – an African-American settlement founded by my former slave ancestors in 1866, and a tidal bayou connected to the northern Gulf of Mexico by Biloxi Bay and the Mississippi Sound.
My community embodies and exudes the same noble history and culture of self-reliance, neighborly good will, slowness to anger, and celebration of les bons temps shared by African-Americans, Native-Americans, Vietnamese, Cajuns and others across a cultural, and ecological region that spans five southern states. Strongly tied to our bayous, bays, wetlands and gulf, people in these communities still eat for lunch and supper what they catch that morning.
I am here today on behalf of scores of thousands of everyday people in coastal Alabama,
Mississippi, Louisiana, Florida and Texas whose livelihoods, physical health, and inter-
generational way of life have been disrupted, compromised or outright destroyed by one or
more of the myriad impacts caused

by the

200 million gallon oil spill that
commenced on Earth Day 2010
. Unimpeded for three months, the Macondo Well hemorrhage and its multi-sector impacts remain an environmental and social catastrophe of epic proportions that does indeed necessitate an "unprecedented" expenditure of concern, time and money – as well as unprecedented honesty, good will and diligence.
I regret to report, however, that the Gulf is not clean, families and small businesses have not
been made whole, and other far-reaching consequences are by no means "over" for anyone
directly concerned – including you who are gathered here today. With dispersed, sunken,
bulldozed, and buried Sweet Louisiana crude still washing ashore, the possibility of a future
hurricane storm surge dredging and depositing yet more onto our land-based ecosystems and
communities is real if not imminent.
So is the possibility that your stock values will suffer significantly once this happens, or once other unfortunate truths about the company's behavior, impact or liability become more fully disclosed or manifested in ways that cannot be circumvented. False assurances that the oil is gone or that normalcy has returned to the gulf coast should not be taken with any greater confidence than past assurances of Deepwater Horizon's safety, or of the blown out well's rate of discharge into the Gulf.
I could easily contrast at great length and in vivid detail that which you and others have been expertly served by a supremely funded PR campaign charged with painting a rosy picture no matter what, but instead – in the name of resolution, good will and brevity - I simply ask if you would come and see for yourselves. On behalf of the Gulf Coast Fund, I invite you without malice – shareholders, board members, and officers alike – to tour gulf coast communities and ecosystems that the Fund exists to serve and renew, and that still suffer acutely from ecological and social impacts that ought not become permanent legacies of the Deepwater Horizon disaster.
Photo: Derrick Evans speaks outside of the 2012 BP Annual Shareholder's meeting in London, England. By Liana Lopez.View more of her photos here.
*****
Derrick Evans is the director of Turkey Creek Community Initiatives and an advisor to the Gulf Coast Fund for Community Renewal and Ecological Health. Since 2001 he has worked to help protect and revitalize his coastal Mississippi community and sister communities throughout the region. Prior to that he taught civil rights history at Boston College and social studies in the Boston Public Schools.